Gelli Painting Collage Papers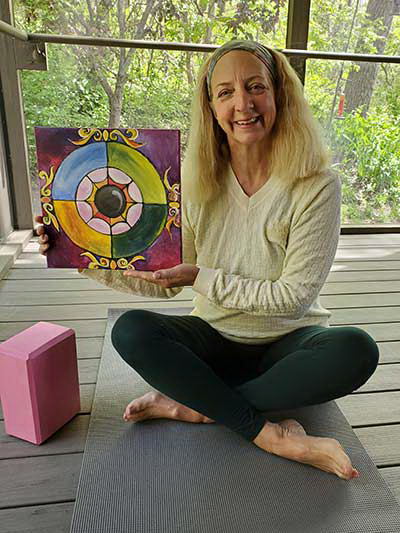 Class: Gelli Painting Collage Papers
Instructor: Mimi Damrauer
Medium: paper collage
Date(s): Saturday, December 17, 2022
Time: 9am - 4pm
Cost: $150
Class Description:
Join award winning collage artist, Mimi Damrauer, for a a simple and fun Gelli Plate Printing art class.

6 Hour Class + Lunch Break in the middle.

This fun filled all day workshop combines the 101: GELLI PRINT "BASICS" CLASS and then a MAJOR MAKING SESSION!

Spend the first half of the class learning the basics of how to use a Gelli Plate to print beautiful and quick collage papers to use for Cardmaking, Journaling, Bookmaking, Scrapbooking, Washi Tape, or any Art Projects. We will use rubber stamps and regular household objects to create layered colors and textured images on collage paper. Everyone will create a fun pile of papers that we will use in the second half of the day to make lots of stuff! NO EXPERIENCE NECESSARY.

What we will make:

Washi Tape
Envelopes & Coordinated Notecards
Gift Tags
Experiment with different paper weights (Sheer, cardstock, and more)
Take the rest of your papers home to use in other projects.
Notes:
All supplies included for the class.
Just bring your lunch and drink.
Wear paint clothes or bring an apron.
Instructor Biography:
Phoenix based paper collage artist Mimi Damrauer...

About Mimi:

Mixed Media Collage is a culmination of everything that I love ... painting, fiber (paper & fabric), & sewing. Collage enables me to use many small pieces together that create one unified design. I am able to control the color and shading as I build my final design. The end result is a simple design that is more complicated when you look at the composition.

My work is Outsider Art (self-taught) and has a primitive folk art feel. I grew up in a creative family with a love of travel, and that is reflected in my work. I mainly work in a series, creating an original piece and exploring that idea/design by altering color and/or size to create related pieces.
Cancellation:
Full refund if cancelling 2 weeks before class, half refund before class, no refund once class begins.
Supply List:
All supplies included in this class.
Class Sizes:
Minimum Class Size: 4
Maximum Class Size: 12

To Register, you must be logged in and be a Current Member or Pending Member. Click Here to sign in. Click Here if you need to join.


All Classes Are Held in the Desert Pavilion Art Room, 34109 N. 69th Way, Scottsdale, AZ 85266
© Copyright 2017 - 2023 | Terravita Art League All Rights Reserved | Terms Of Use | Privacy Policy | Webmaster: Gene Hanson